Giving continuation to bring social change by transforming ideas into solutions, Idea Studio Nepal completed Idea Studio Season 4. The journey of the fourth season began on July 31, 2019 with commencement of Infrastructure Idea Hunt 2019, a campaign jointly initiated with Confederation of Nepalese Industries (CNI). The Infrastructure Idea Hunt received 50 ideas that were incubated and presented at the final event held at Hyatt Regency on September 12 where Bidhi Mandal and team (Aawas) were awarded Rs. 1, 50,000 while the two runner-ups Shiristi Awale and team (Home Automation), and Ramesh Pathak and team (Traffic Map) won Rs.1, 00,000.
College Idea Hunt 2019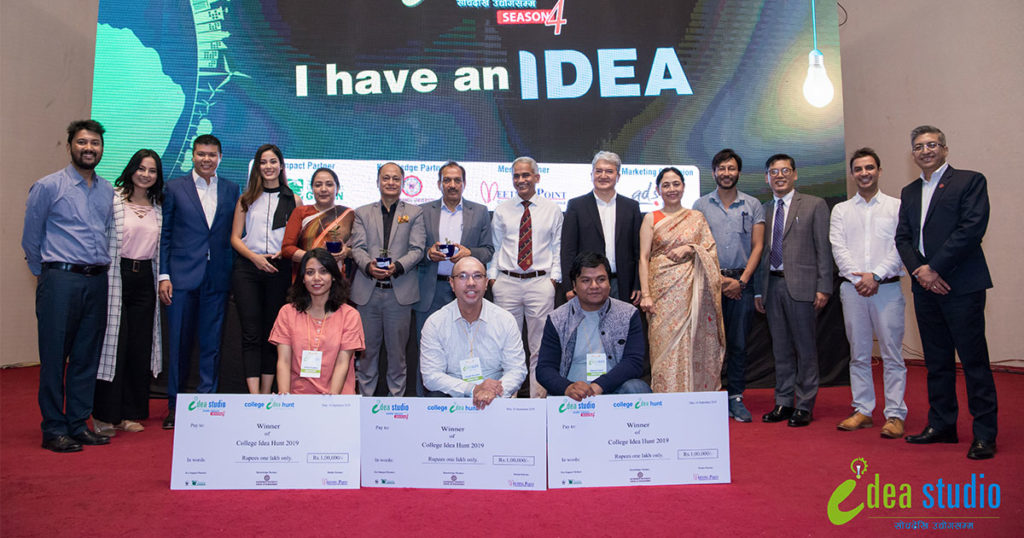 The second phase of Idea Studio Season 4 was College Idea Hunt, an initiation introduced to facilitate entrepreneurship in college students. The college activation for College Idea Hunt began on August 6, 2019 through online application on Idea Studio Nepal website. The activation saw interaction with around 1,800 students and a reach of 101 colleges while more than a hundred ideas were received. Sixty ideas were selected for the second round after which top 10 ideas were selected for 'I Have An Idea' event 2019. Business experts groomed these ideas through five days of incubation at Idea Studio Nepal office. Joseph Shrestha (Reverse Vending Machine), Anshu Pradhan (Sister's Enterprises), and Rupesh Duwal (Tetra Pak Recycling) were selected as top ideas and awarded Rs 1, 00,000 each. The winners also got direct entry into a month-long incubation programme and an opportunity to pitch their ideas in the national television show.
Idea Studio Season 4: सोचदेखी उध्योगसम्म
With a press meet held on August 18, 2019, national idea calling kicked off. Idea Studio Nepal announced its partnership with WWF Nepal as an Eco Impact partner and introduced a new winner category called 'Greenovation. New ambassadors for Season 4 – Captain Vijaya Lama, Anupama Khunjeli (CEO Mega Bank), Malvika Subba (Media Personality), and Prakash Saput (Singer) were also introduced through PSAs.
Idea Studio Nepal called for ideas from all across the nation through promotion campaigns on radio, TV, newspapers, posters, website and social media started from August 18, 2019 till September 18, 2019. The promotions turned fruitful as Idea Studio Nepal received more than 400 ideas from 46 districts of Nepal. From this heap, a total of 82 ideas were shortlisted by the business gurus. The shortlisted ideas were then categorized into—just an idea (23 ideas), have my layout (38 ideas) and running business (21 ideas) to efficiently evaluate ideas and create evaluation criteria accordingly.
On October 18 and 19, the live auditions of the 82 participants were held. At the end of the live audition, the top 27 ideas were finalized. After the live auditions a month long incubation period from November 4 - December 4, 2019 took place. Rest of the selection process and final pitching was televised nationally through AP1 television with 12 episodes every Tuesday 9:00 PM. These episodes were also uploaded to Idea Studio Nepal's Youtube channel.Youtube link: https://youtu.be/En4asP6CdWI
Season 4 was different from other Seasons with four episodes of Dream Round and eight episodes of Deal Round. A total of 24 ideators moved onto the Deal Round from Dream Round. The Deal Round was segregated by the seed investment category-Greenovation, Social Impact, Made in Nepal and High Flying.
Ang Dolma Sherpa (Biodegradable khata) won seed investment for Greenovation, Deepak Budha Bahadur (Mission Marci) for Social Impact, Kabin Maleku (Medi Foods) for Made IN Nepal and Kshitiz Thapa's (Ticketnshop) for High Flying.
Virtual Gala Ceremony
In the light of the COVID-19 outbreak, Idea Studio Nepal cancelled the Gala dinner ceremony and conducted an online graduation ceremony and webinar titled 'Exploring opportunities post COVID for startups and SMEs' via Zoom on June 6, 2020. Padma Shri Arunachalam Muruganantham, the man behind the sanitary pad revolution in India gave a keynote speech. Panel discussion, moderated by Sanjib Subba, Senior Advisor to the Board of Director, Idea Impact Investment Fund discussed challenges start-ups and SMEs faced, access to financial liquidity and possible solutions and alternatives. Shedding light on this issue, panelist Madhab Dhungel, Executive Vice Chairperson, National Youth Council, Anupama Khunjeli, CEO, Mega Bank Limited, Pawan Kumar Golyan,Chairman, Golyan Group and Anil Basnet, Founder and CEO, metrotarkari.com shared their views and opinions. The graduation ceremony acknowledged all partners and stakeholders and two Season 4 ideators shared their experiences with Idea Studio Nepal. The webinar was live on facebook with a total reach of 62,039 people.
Webinar Link: https://www.facebook.com/IdeaStudioNepal/videos/2407328592893651/