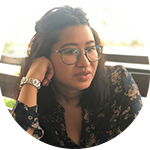 Shradha Pal
Strategic and Communication Director


Shradha has over six years working experience as a journalist in print media and over two years experience in the development sector. She promotes and believes in equality for all and one of the steps to achieving that is nurturing entrepreneurship that leads to economic independence. She also advocates for leadership as it is an integral part of any journey. To develop this she is actively working as Chief Operating Officer (COO) with Leadx Nepal, a leadership development company.
Shradha completed her Masters in Social Work from St Xavier's College in Kathmandu and Bachelors from Delhi University.