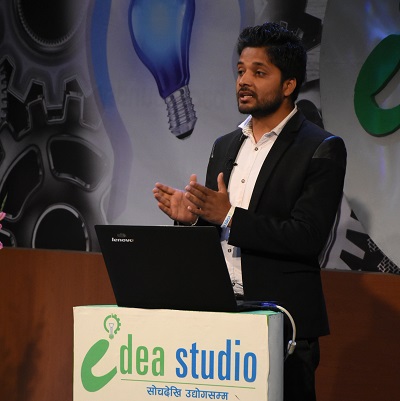 Suman
Idea: PujaSewa.com
Kathmandu
Industry : Art and Design
Investment Required: Rs. 2,500,000

The Nepalese people are more religious where they spend much of their time worshipping to Gods and follow their culture and traditions. This worship is also known as 'Puja' in Nepali. Puja is conducted from when a person is born till he dies. Various kinds of pujas conducted in Nepal throughout the lifetime of an individual. All these are celebrated by the people. Hence there is a need for Brahmins and different kinds of materials that are used during the puja, also called puja samagri. Traditionally, there were enough Brahmins that conducted these kinds of pujas, some were known by the family, some were referred to by the relatives or friends. However, these days Brahmins are hard to find, and on the other hand people are too busy because of their working life and aren't able to manage time which makes it viable for a business like Puja Sewa to flourish.
I. Book a Brahmin. How many times one has to go through a situation where one wanted to conduct a puja but didn't know where to find a highly trained Brahmin? Now, nobody has to go anywhere else looking for a priest. Finding a Brahmin or Pandit to organize a puja was never this easy. At PujaSewa, we provide the option of booking a Brahmin online. This type of service is first of its kind in Nepal.
II. Organize a puja. We at PujaSewa offer event planning services for all religious events that a client is planning to organize. Be it his/her child's naming ceremony or once in a lifetime- wedding ceremony. Our pricing method takes into consideration the size, location, and complexity of the planned event.
III. Online Jyotish. Isn't it great to know what life has in store for us? Having knowledge of the future helps us to plan and prepare for the bad times and anticipate good times with great joy. With our world class astrologers, a person's future will remain no more a mystery. Our astrologers can accurately make predictions about all situations/problems and suggest effective solutions. Our Jyotishis provide guidance during one-on-one sessions as well .
There are traditional competitors like family brahmins, jyothisis, puja samagri retailers/wholesalers, location specific and small-scale brahmin and puja services providers which have been catering to people so far. Their services are comparatively cheap on average but not integrated and they do not offer any booking services. Their market reach is also limited which is evidenced by a lack of a single active website or facebook page. Puja Sewa plans to fill this gap by being a reliable, cost-effective and online service provider. There is not a single online Brahmin and Puja services provider so far in the market. If Puja Sewa can market itself aggressively in the first year itself, its market presence would be firmly established, which any competitor wouldn't be able to grab. However, there are chances that few traditional service provider may start their own services if Puja Sewa succeeds, inspired by its success. Jyotish Service is cheap and available everywhere. Even online Jyotish Services are available. This is where Puja Sewa will face a tough competition. However, the need for Jyotish Service is worldwide. Puja Sewa can target international market and offer services under $ 5. In the domestic market, Puja Sewa plans to offer Online Jyotish services for free to attract prospective clients and as an embedded service.