Idea Studio TV Show
Idea Studio TV show is a reality based television program which features the journey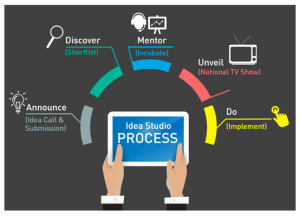 of aspiring entrepreneurs from being shortlisted to the final pitching of their business ideas in order to secure potential investment from various business experts
and investors. Idea Studio is the first nationwide entrepreneurial ecosystem to discover and present young social innovators from all corners of Nepal for their creative Ideas that can benefit their local communities, especially faced by women and children.
The TV show which has successfully completed four seasons has been aired on popular channels like Nepal Television, Avenues Television, Himalaya TV and AP1 HD Television. Season 1 was hosted by famous media personalities Malvika Subba (Board of Director, Idea Studio Nepal) and Vivek Singh Thakuri (Board of Director, Idea Studio Nepal). Television episodes of Idea Studio Season 2, 3 and 4 were hosted by Subba.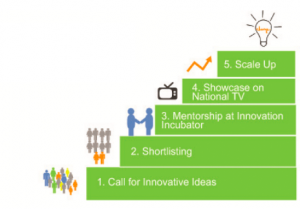 How does the Idea Studio TV show work?
Ideas are encouraged from all over the country. There is an initial short-listing process after which innovators with the most feasible ideas (the 30 best ideas) are selected for mentorship at the Incubation Center at Kathmandu University School of Management (KUSOM). Few ideas from the various Idea Hunt Competitions done previously are given direct entry to the reality Television show. Business leaders as well as KUSoM professors and students work with the selected innovators to assess their needs and support them through assistance with Academic and other resources, developing proposals, and finding investment.
The Ideators are supported by Idea Studio even after they are matched with seed funding with a monitoring and evaluation system that continues to evaluate and measure their financial and social impact.
Innovators present their ideas on National Television for an opportunity to partner with business leaders. Ideas that are chosen for investment by business leaders and financial institutions via the television show will then be further developed and implemented.
The eligible ideas for receiving seed investment are selected in four main categories. Top four ideas become eligible to receive seed investment starting from Rs 5, 00,000 in categories such as Greenovation, Made in Nepal, High Flying and Social Impact.
All four seasons of Idea Studio have been very successful and beneficial in providing hope and aspiration to potential entrepreneurs by urging them to come forward with ideas that can help solve social issues within their local communities. Most importantly, it has encouraged the Nepali people to stay and invest their skills and ideas in Nepal itself.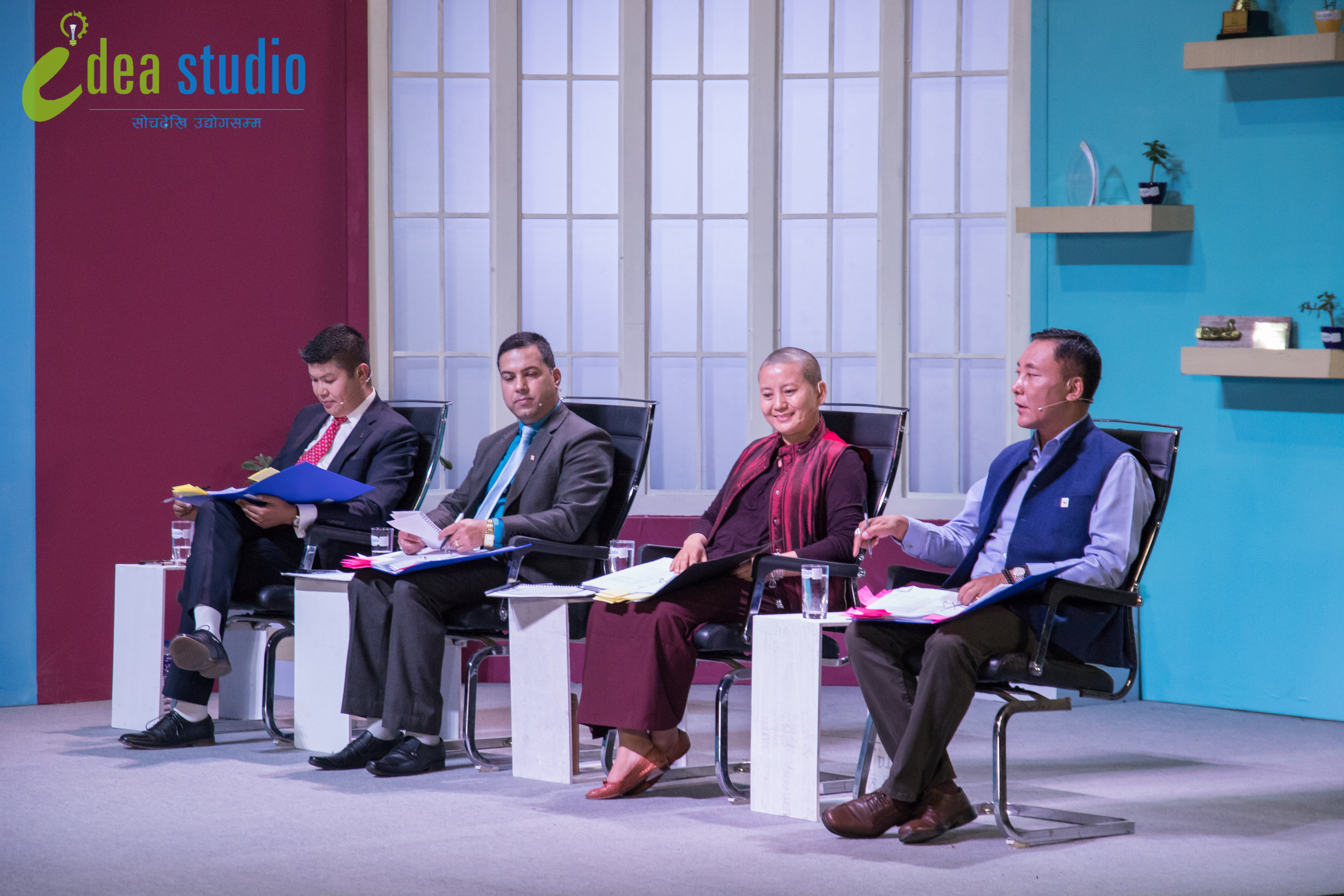 Idea Studio Season 1 
The first season of Idea Studio was aired on two National Television Channels - Nepal Television and Himalayan Television in the year 2014. The program was conducted under the joint initiative of Childreach Nepal, UNICEF Nepal, Kathmandu University School of Management (KUSOM) and Meeting Point. There were 26 aspiring entrepreneurs who had participated in the show as the first batch of "Ideators" of Idea Studio Season 1. Alcohol Free Sanitizer, Aloe Vera Farming, Chiraito and Mushroom Plantation and Agro-Tourism Resort were some ideas that were featured on the show. The show was hosted by celebrities and endorsed by social activists Madan Krishna Shrestha and Hari Bansha Acharya; Nepal's singing nun and UNICEF Nepal's National Ambassador Ani Choying Dolma; Cricket Captain Paras Khadka; CEO of Mega Bank Anil Shah; and internationally acclaimed Taekwondo player Deepak Bista. 
Watch Season 1 Episodes
Idea Studio Season 2
Conducted under the joint of Childreach Nepal, UNICEF Nepal, Kathmandu University School of Management (KUSOM),and Meeting Point, Idea Studio Season 2 was aired on Nepal Television and Avenues Television in the year 2015. There were 30 Ideators whose stories were featured on the Television Reality Show. Some ideas showcased in the show are as follows: Sishnu Production, Online E-Sports Game, Valley Waste Management. It was hosted by Malvika Subba -a famous television personality- and was endorsed by famous personalities Malvika Subba, Paras Khadka, Ani Choying Dolma, Hari Bansha Acharya, and Madan Krishna Shrestha. 
Watch Season 2 Episodes
 Idea Studio Season 3
Moving to the third year of the Reality TV Show, Idea Studio Season 3 featured 25 aspiring ideators with their unique entrepreneurial journey. There were three categories in the show namely Social Impact, Made in Nepal, and High Flying. 10 finalists from different categories were selected for the Final Round where title holders for each category of the show were announced. Some ideas that were showcased in the show are the manufacturing of probiotic drinks, artemisia oil, and probiotic drink. Supriya Shakya and Sashin Shrestha were the title holders of the Social Impact Category, Uttam Bajracharya in the Made in Nepal Category, and Adhip Poudel in the HIgh Flying Category. The show was presented by Malvika Subba and endorsed by the goodwill ambassadors like. Industry experts, academicians, and business leaders like John Jesani, Bhuwan Phaiju, CEO at Tranquility Spa, Michelle Sutherland, Ghanashyam Gurung, Country Representative at WWF, Raveena Desraj Shrestha, Deputy CEO at Mega Bank, Ani Choying Drolma, Vidushi Rana, Director Marketing and Branding at Goldstar Shoes, Madan Krishna Shrestha and Prashant Tamrakar were associated with Season 3 of Idea Studio Nepal. 
Watch Season 3 Episodes
Idea Studio Season 4
The fourth season of Idea Studio was showcased on AP1 Television in the year 2019. It was presented in a different format to make it more interesting for the viewers. The show consisted of two rounds- Dream Round and Deal Round. The  Deal Round of the Show consisted of four categories, namely Greenovation, Social Impact, Made in Nepal and High Flying. Business Gurus for different sectors like academia, industry experts, and media judged the Dream Round of the show; whereas the judges for the Deal Round were selected in terms of their expertise of the 4 categories of the show. The final four seed investment winners were Ang Dolma Sherpa belonging to Greenovation Category, Deepak Budha Bahadur belonging to the Social Impact Category,  Kabin Maleku in the Made in Nepal category, and Kshitiz Thapa in the High Flying Category. The show was hosted by Malvika Subba and endorsed by various Goodwill Ambassadors like Prakash Saput. 
Watch Season 4 Episodes
Idea Studio Season 5 
Season 5 of Idea Studio is currently in the process of being produced. The Broadcast Partner of Idea Studio Season 5 is the AP1 TV. The show is divided into four categories - The Introductory Episode, The Dream Round, The Deal Round, and the Gala Round. There will be a total of 14 episodes. The show is scheduled for the tentative airing date around the end of July. 
Introductory Episode(Episode 1): This episode will focus on showcasing the current scenario of entrepreneurship in Nepal. Showcasing brain drain, policy-level challenges, societal level hurdles, and other issues faced by entrepreneurs in Nepal. This episode will also introduce Idea Studio Nepal, Projects of Idea Studio, Past Seasons of Idea Studio, the testimony of ideators. About Season 5, Short Intro of Judges, the various phases of Idea Studio Season 5 like Idea Screening, Live Audition, Incubation, Mentorships, Company Visits, Industry Visits.
Dream Round(Episode 2 - Episode 5): This section of the show will introduce all the ideators and their unique stories of ideators. There will also be a brief discussion about each ideator between the Judges and the Host of the show.
Deal Round(Episode 6 - Episode 12): This section will showcase the different phases that the ideator goes through and the final transformation of the ideator. The phases will include one-on-one mentorship, training, company visits, industry visits.
Gala Round(Episode 14): The final round of the show will compile the overall program of Idea Studio Nepal. All partners, ecosystem champions, past ideators, current ideators and everyone involved in the making of the show will be acknowledged.
Anil Basnet, Founder, Metro Tarkari, Ashish Gajurel, Executive Director, Nepal Intermodal Transport Development Board, Dr. Bim Prasad Shrestha, Associate Professor at Mechanical Engineering Department of Kathmandu University, Dr. Biraj Karmacharya, Chief, Department of Community Programs, Kathmandu University School of Medical Sciences, Dr Tshering Lama, Executive Chairperson, and Co-Founder at Idea Studio Nepal, Dr. Anjana Singh Dangol, MD, HOD. Associate Professor, Kathmandu University School of Medical Sciences, Govinda Gurung, CEO, Civil Bank, Juna Mathema, Co-founder and Managing Director at Blitz Media Private Limited, Khem Lakai, CEO and Co-Founder, GATE College, Latika Golyan, Managing Director, Made in Nepal, Nirmala Bist Rawal, Head of Microfinance at Prabhu Bank Ltd, Pavitra Gautam, Chief Executive Officer at Karkhana, Rajendra Singh, Deputy Director, Trade and Export Promotion Centre (TEPC) at the Ministry of Commerce in Nepal, Sanjib Subba, CEO, Nepal Electronic Payment System, Sujeet Regmi, Co-founder, Sajilo Marmat Sewa, Swastika Shrestha, Co-founder and CEO at Teach For Nepal are some of the Business Gurus associated to the screening, mentoring and judging of the ideators of Season 5. 
Participants of Idea Studio Season 5:
In Season 5, 33 ideas are being incubated. Currently, Idea Studio Season 5 is in the Second Phase of Incubation. The total number of ideas received in Idea Studio Season 5 is 540. From the total number 315 ideas received were in the idea stage, 166 in the layout stage, and 59 in the running business stage. Applicants from all provinces of Nepal along with Non-resident Nepali applicants from the USA and Norway were received. 
Ideators Season 5