Idea Studio TV Show
Idea Studio TV show is a reality based television program which features the journey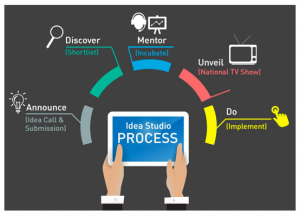 of aspiring entrepreneurs from being shortlisted to the final pitching of their business ideas in order to secure potential investment from various business experts
and investors. Idea Studio is the first nationwide entrepreneurial ecosystem to discover and present young social innovators from all corners of Nepal for their creative Ideas that can benefit their local communities, especially faced by women and children.
The TV show which has successfully completed four seasons has been aired on popular channels like Nepal Television, Avenues Television, Himalaya TV and AP1 HD Television. Season 1 was hosted by famous media personalities Malvika Subba (Board of Director, Idea Studio Nepal) and Vivek Singh Thakuri (Board of Director, Idea Studio Nepal). Television episodes of Idea Studio Season 2, 3 and 4 were hosted by Subba.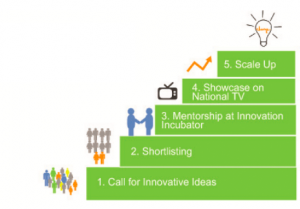 How does the Idea Studio TV show work?
Ideas are encouraged from all over the country. There is an initial short-listing process after which innovators with the most feasible ideas (the 30 best ideas) are selected for mentorship at the Incubation Center at Kathmandu University School of Management (KUSOM). Few ideas from the various Idea Hunt Competitions done previously are given direct entry to the reality Television show. Business leaders as well as KUSoM professors and students work with the selected innovators to assess their needs and support them through assistance with Academic and other resources, developing proposals, and finding investment.
The Ideators are supported by Idea Studio even after they are matched with seed funding with a monitoring and evaluation system that continues to evaluate and measure their financial and social impact.
Innovators present their ideas on National Television for an opportunity to partner with business leaders. Ideas that are chosen for investment by business leaders and financial institutions via the television show will then be further developed and implemented.
The eligible ideas for receiving seed investment are selected in four main categories. Top four ideas become eligible to receive seed investment starting from Rs 5, 00,000 in categories such as Greenovation, Made in Nepal, High Flying and Social Impact.
All four seasons of Idea Studio have been very successful and beneficial in providing hope and aspiration to potential entrepreneurs by urging them to come forward with ideas that can help solve social issues within their local communities. Most importantly, it has encouraged the Nepali people to stay and invest their skills and ideas in Nepal itself.