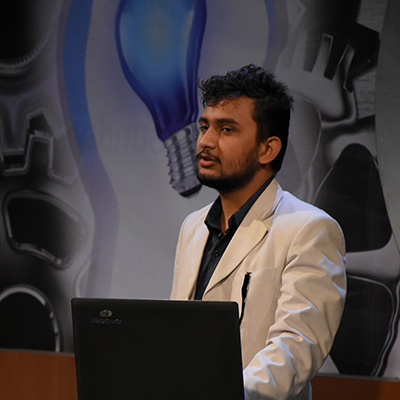 Kushal Pokhrel
Idea: Digital Art Service, Eclipse
Address: Kathmandu Industry: Art and Design
Amount of Financing Sought: Rs. 1,080,000.00

Kushal Pokhrel's project 'Eclipse' uses sound to create digital art. The important part of our lives say, the first words of your child and teaching from elders hold exceptional importance, so, Eclipse focuses on capturing such moments in form of sound to create art. Eclipse creates a connection between art, technology and emotion.

Business Description:
At present the founder of Eclipse Labs, an Engineering student, is looking after the business planning while the prototype is ready. The major focus at present is in developing a team of Engineers, artists, management consultants to run the product line into a MVP stage. The overall ownership stays with the founder, based on technical and financial contribution the equity of the company will be divided between the development team and investment team.
Product:
Eclipse Labs' uses personal sounds to develop picture art. The art forms can be used solely as an art form in picture frames or be used in other low cost design applications for gifts like cups, T-shirts and jewelries. The service proposition is providing customer to print and design their art forms as a physical art.

Technologies/Special Know-how:
The Sound into Picture transformation is used in Music Visualization; meanwhile few companies around the world provide the art service using personal sounds. But, Eclipse uses responsive graphics technology and art service based on personal sounds which uniquely differentiates Eclipse Product & Service technology. Eclipse Labs collaborates with artists and Artificial Intelligence experts to generate visually appealing responsive graphics technology. Market Eclipse has two lines of products – pure art and gift designs. Gift designs are relatively low range and focuses on low price markets which wants Sound – picture transformation in their accessories or applications. The art product which provides exclusive art forms and photo frames ordered focuses on art enthusiasts who emphasize quality, value and empathy over price.

Value Proposition
1. Directly reflect, associate people's emotions and activities on art
. 2. Use personal memory to generate art form.
3. Gift valuable and relatable art to special ones.

Direct Competition:
For the line of application products aiming at Art, Gift, and graphic designs market has varied distributed sellers. Art market has large margin in product sales but art is solely based on the technique of artist and customer's empathetic reflection. Eclipse Labs provides unique way to generate art from the emotions and activities of customer itself.As a technology, Eclipse Labs belong to the emerging Digital Art technology where companies like Google are promoting and generating art forms. Eclipse technology provides that magical aspect to reflect personal activities on beautiful art forms. Sound – picture transformation technology is available in Music Visualization and other waveform printing services. But, Eclipse focuses