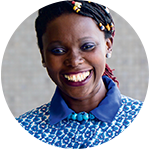 Marieme Jamme
Mariéme is an award-winning Technologist and pioneer in system change and a Young Global Leader of the World Economic Forum. In Sept 2017, she was the first black woman to win the Innovation Award at the Global Goals Award 2017 by UNICEF and the Bill and Melinda Gates Foundation as a GoalKeeper for her work in advancing the United Nations Sustainable Development Goals, supporting globally young women and girls and governments. She was nominated on the BBC 100 Power Women UK list and was named twice on the UK Powerlist as Britain's 100 most influential people of African and African Caribbean Heritage.
Mariéme became the Duke of York Inspiring Digital Enterprise Award (iDEA), Industry Ambassador in 2018.
Marieme's latest venture includes the launch of IAMTHECODE, as the first African-led global movement aiming at mobilising governments, businesses, philanthropic foundations and investors to support marginalised girls and young women to have access to STEAMD (Science, Technology, Engineering, Arts, Mathematics, and Design) education. Her goal is to empower 1 million young women and girls globally to become coders by 2030. iamtheCODE is a UN reconsigned organisation. Mariéme is a Board of Director of the World Wide Web Foundation, founded by Tim Berners-Lee, inventor of the Web and is the first Senegalese woman to have made it to the North Pole.
LinkedIn: https://www.linkedin.com/in/mariemejamme/?originalSubdomain=uk