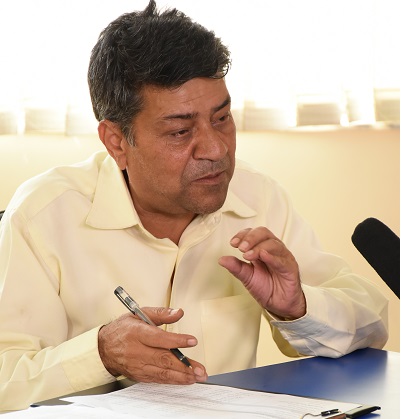 Pramod Aryal
Idea: Biological fertilizer in replacing urea and other chemical
Address: New Baneshwor, Kathmandu
Industry : Bio Fertilizer
Investment Required: Rs. 250,000,000
Imagine your food being chemical free, sounds healthy! Pramod Aryal's idea of creating a non-chemical, organic fertilizer for crops is both environmental friendly and healthy. With sustainable use of minerals present in Nepali soil and its integration with bacteria to create an eco-friendly fertilizer will assist in growing organic food and promote organic agriculture.
Farmers are looking for alternative to chemical fertilizers and pesticides due to its detrimental effect in soil and human health. Excessive use of fungicides in vegetable farming has caused serious diseases and farmers are seeking alternative. The present bio-fertilizer has been designed which not only supplies substitutes of chemical fertilizers but also increases plant immunity in combating disease which would reduce the use of fungicides. The reduced use of chemicals results in healthy environment to carnivorous birds that feed on pests. This would ultimately reduce pest load in eventually reducing use of pesticides. The fertilizer is designed to be in pellet form which would be easy for farmers to use contrary to the liquid or powder fertilizer that is available.
The main goal of the company is to replace use or urea and other chemical fertilizers by providing nature friendly, highly efficient fertilizer comparable to use of urea that could replace chemical fertilizer that has harmed the soil quality and amend the degraded soil.
This business consists of two separate units; Developing Company and Manufacturing Company. Developing company will develop the formula for the fertilizer and future other products such as alternative to pesticides, animal feed production which would then provide the license to the manufacturing company. It will have quality control unit which will test the product quality produced from the manufacturing company. Further it will work on research and development for the improvement of the product.

Scientific team Lead by Dr. Pramod Aryal with 5 others who were directly involved in developing these bacteria. Two other individuals who are now working in biotechnology and pharmaceutical industries for several years could be brought in for production unit. Investors with experience would be additional benefit.
Sales/ Market Analysis
There would be 3 types of products. Pelletized fertilizer will have MRP of Rs.50.00 per kg. Similarly, artificial soil will have MRP of Rs.20.00 per kg and liquid fertilizer will have MRP of Rs.100.00 per liter. The bulk pellet market focus would be L. cardamom, Tea, and cereals. In Nepal Large cardamom is cultivated in 14,000 hectar areas as of 2011 (Personnel communication with Mr. Padam Adhikari, Chief, Cardamom Development Center, Phikkal, Ilam). The recommended dose is 600 kg per hectar per year, thus total requirement would be 8,400 tons per annum. Similarly there are 10,000 hectar under tea plantation in Nepal (shakuntea.com).
Recommended dose of 600 kg per annum per hectar would give market size of 6,000 tons per annum. Additionally, Nepal Krishi Company in Biratnagar is developing cooperatives covering around 50,000 hecar paddy fields for three cropping per year (rice, wheat and mung or maize). The recommended dose is 500 kg per hectar per annum for three cropping. In addition, coffee plantation is reported to be in 2,381 hectar in 2071/72 (Nepal Tea and Coffee Board; www.teacoffee.gov.np) and assuming 1000 kg per annum then it would create market of 2,381 tons. This would create cumultative market size of 41,781 tons would be required for these areas only. If 20% share is covered in first year of production this would create market for more than 10,000 tons. Only covering this much would give enough market for first year production at 30% efficiency and project sales of 80% of this it will be only 6,400 tons per annum which is less than the coverage area.