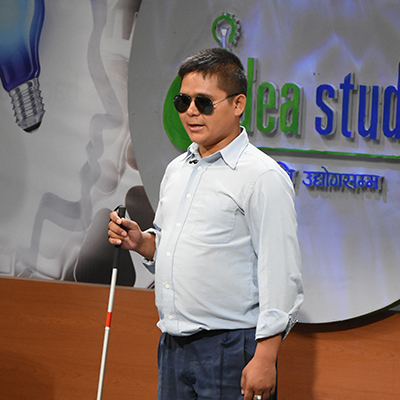 Subodh Rai
Idea: Decorations
Bright World Campaign, Nepal
Kirtipur, Kathmandu

SAVE TREES, SAVE EARTH! Subodh Rai supports this motto and has developed a project on using bamboo to make sustainable decorative items and furniture, reducing stress on excessive deforestation. These products can be easily made by differently abled people and mentoring workers would be simple as well. The project will turn into a manufacturing industry and reach international level with expansion. Bright World Campaign, Nepal (BWC, Nepal), is a Non-Governmental Organization, established on 2069 B.S. This organization was established with the objective to support people who are differently abled and also provides them with employment opportunities. The co-founder of this organization,
Mr. Subodh Rai, has initiated an idea to make decorative items like furniture using "bamboo", which will be produced and sold in a cheap rate as compared to the branded furniture available in the market. Initially, for this new business, which will remain under BWC, Nepal, the products that will be produced are Mudha, Rack and Pen Cube. After which Bamboo Tables and Chairs production will be added after researching the market feasibility. In overall, the company aims to provide affordable, yet durable goods, to the target market it has.

Market Analysis:
For the startup phase the products will be focused for the middle income grouped people of the Kathmandu Valley whereby the customers can get durable and attractive Mudha, Rack and Pen cube and few other items like tables and chairs in affordable prices. For the first four months, the organization will be mainly focusing on the production of Mudha, Rack and Pen cubes made out of bamboo. After the first four months, tables and chairs made out of bamboo too will be added. So basically, the value proposition the customers derive from the products is that, the team promises to deliver goods that are durable, reliable at affordable prices. And also, introducing products in different phases can help the organization and its production to be known better in the market, and also analyze and wait for the appropriate time to launch the products phase wise, by checking the market feasibility as mentioned earlier.