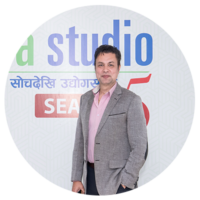 Suresh Paudel
Operations Director, AP1 HD TV and Director, Idea Studio Season 5
Suresh Paudel is the Operations Director of AP1 HD TV and Director of Idea Studio Season 5 Television show. He is a Nepali media personality, writer, director, columnist, documentarian, and producer. He is widely acknowledged for his work as the Project Head and Director of Nepal Idol (already aired three seasons on AP1) a singing reality show, a franchise of the Idol series created by Simon Fuller owned by Fremantle Media. His previous notable contribution to media includes serving as the creator, television host, and writer for 'Kantipur Aaja'.
Early Life
Mr Paudel was born in Allahabad to parents Madhav Prasad Paudel and Shanti Devi Paudel. He attended Bhairahawa High School (BHS) and later enrolled in Bhairahawa Multiple Campus to pursue commerce at the bachelors' level (B. Com).
While growing up, Mr Paudel had a keen interest in music which led him to invest his free time in learning various musical instruments like the guitar, bass, and flute. He listened to various international artists despite the lack of accessibility and knowledge of music in his area. His fondness for music translated into him being a part of a band namely 'Ankuran' in which he served as the bassist. 
Career 
Nepal Television (1996-2003)
After the completion of his bachelors' degree, Mr Paudel moved to Kathmandu. Although his field of study was commerce, he chose a career path in the field of media due to his compassion for documentaries and television. He studied Television Production – Basic Course in Program Presentation before he worked as a program producer in Nepal Television from January 1997 to August 2003. 'Parichaya' (that translates to 'Introduction') was one of his initial television programs that aired on Nepal Television. He also made several documentaries covering various areas such as national politics and history (The Royal Massacre, The Nepalese Civil War), culture (the origin and history of various festivals celebrated in Nepal) during the tenure of his employment in Nepal Television.
Kantipur Television and further training (2003-2013)
Mr Paudel started working in Kantipur Television as the Senior Producer on August 2003. His first assignment at Kantipur Television was to head the Morning Transmission team. He was also assigned to head and direct a documentary team named 'The Alternative'. During the period, Kantipur Television was the only weekly documentary broadcaster. Some powerful documentaries were made and broadcasted during the period. 
In September 2007, Mr Paudel got a full scholarship for Television Training at Radio Netherlands Training Centre, in The Netherlands, named as 'International Course Facts and Formats (Television) – Creative Ways of Informing People'.
After returning to Nepal, he created a show called 'Kantipur Aaja' (that translates to 'Kantipur Today') written, hosted, and directed by him. The show gained wide appreciation and popularity for its content. He was with that show for three years (2008 to 2010).
In the year 2012, he enrolled for Television Training at St. Scholastica's College in Manila, Philippines. It was a refresher course that chiefly focused on Sports Coverage and Development in media. 
Nepal Idol and AP1 HD TV (2013- Present)
After working for almost a decade at Kantipur Television, Mr Paudel left Kantipur Television on 2013. His hunger to make a notable change in the Nepali media led him and his team to bring a franchise, a singing reality show (Nepal Idol) to Nepal. The first three seasons were successfully aired on AP1 HD TV. It was well-received on digital platforms like YouTube and Facebook Live.  
Apart from his television career, Mr Paudel has also written for various publications. He is an avid reader, collector of books, magazines, and newspapers. Newspaper cutting is one of his many hobbies. He has covered topics ranging from current affairs to events of historical importance in his writings. 'Because it's there' is one of the heart-wrenching articles that Mr Paudel has penned that portrays the physical and emotional turbulence faced by English mountaineers George Mallory and Andrew Irvine during the 1924 British Everest Expedition, the third British expedition to the world's highest mountain, Mount Everest.