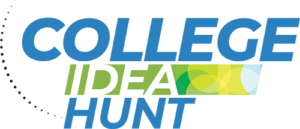 WHAT IS COLLEGE IDEA HUNT?
College Idea Hunt is an Annual Program, created and designed by Idea Studio Nepal with the objective to bring out the creative young minds to solve existing problems through innovative and sustainable "Greenovation" solutions. Along with the pitching platform, students get an opportunity to learn from incubation, mentorship, and networking. The top 3 business ideas are awarded with a cash prize of Rs 1,00,000 each to prototype and launch their eco-friendly green or social impact businesses. Over the past five years College Idea Hunt has been able to garner the attention of more than 100 colleges around Kathmandu Valley with more than 500 applicants. College Idea Hunt has been able to establish itself as a unique and important incubator for students in Nepal. Idea Studio Nepal has been organizing College Idea Hunt since 2017 and has been able to complete four Annual College Idea Hunts successfully. Idea Studio Nepal is excited to launch College Idea Hunt 2021. 
WHY COLLEGE IDEA HUNT?
College Idea Hunt is a Business Incubation Programme exclusively for students in Nepal!
Students from all faculties can apply.
Prioritizing Greenovation and Socially-just business ideas.
Opportunity to participate in the Lab Based models workshop to develop 21st Century Skills sets developed in partnership with Oulu University of Applied Sciences Finland and New Venture Creation Incubation program developed in partnership with MIT and KUSOM.
Opportunity to be a part of business incubation, mentorship, and networking programme.
Opportunity to present ideas to the wider audiences including renowned personalities of Nepal, through I have an Idea, the grand finale event of College Idea Hunt.
Top 3 winners receive Rs. 1,00,000 cash prize each and continuous mentorship support along the journey.
The winners also get DIRECT ENTRY to National level Incubation Programme and the business Reality Television Show.
The programme is an inter-college competition accepting Greenovation ideas and/or social impact ideas.
GREENOVATION 2021
'Green entrepreneurship' develops business solutions for environmental challenges that are economically viable and socially empowering. Sustainable business or a green business is an enterprise that has minimal negative impact on the global or local environment, community, society, or economy — a business that strives to meet the triple bottom line.
WWF Nepal as the Eco-Impact Partner of College Idea Hunt supports and promotes "Greenovation", business ideas solving the environmental challenges, directly or indirectly, using eco-friendly solutions. It is a programme to nurture innovation and entrepreneurship, to support start-up communities by contributing towards a vibrant sustainable entrepreneurial ecosystem and facilitate investment for budding, small, and medium green enterprises through innovative sustainable and mainstream environmental solutions in all sectors.
Criteria for a Green Business:
It incorporates principles of sustainability into each of its business decisions.
It supplies environmentally friendly products or services that replace demand for non-green products and/or services.
It is greener than traditional competition.
It has made an enduring commitment to environmental principles in its business operations.
A sustainable business is any organization that participates in environment-friendly or green activities to ensure that all processes, products, and manufacturing activities adequately address current environmental concerns while maintaining a profit.
Process
PHASE 1: IDEA SUBMISSION
Students apply with their business ideas through the application form on our website which requires students to explain their business idea along with a 2-minute video pitch. 
Application Form: http://ideastudio.org.np/submit-college-idea-hunt/
Deadline: 24th September, 2021

There is no application charge.
Students apply with their business ideas through the application form on our website which requires students to explain their business idea along with a 2-minute video pitch. 
Eligibility:
Students currently studying Bachelors or Masters in Nepal from any faculty are eligible to participate. The student must be affiliated with a University approved by the Nepal Government.

The business idea must be Greenovation and/or a social innovation/impact idea. 

 The applicant must submit a 2-minute video pitch with the application form.

Video guideline: The application requires you to submit a 2-minute video pitch as part of the application fulfillment. Please find the video requirements and the format for the video

The video is a pitch of a business idea and should reveal the applicant's face for the pitch. The video can use animation, photos, or slide in-between but cannot use these elements solely.

Please make sure the video is no longer than 2-minute. 

The video can be either in English or Nepali as per your preference.

Please rename the video before submission as  Full Name_Business Idea Name for eg. Joseph Shrestha_RVM Nepal

Please submit a google drive link to your video in the application. Please make sure to turn on the link sharing option activating Anyone with the link can view the option, else we will not be able to screen your application.  
Answer the following questions in your video:

Explain your business idea

What problem is your business idea addressing and how?

Who are your targeted customers?

How does your business contribute to Greenovation and/or social innovation and impact?

If you win the College Idea Hunt 2021 how will you utilize the prize money of Rs. 1,00,000?
PHASE 2: TOP 10 IDEAS
The 10 best selected ideas from all the ideas received will move on further. The shortlisted ideas will be informed through email. Please make sure that you provide a valid email address and check your email.
PHASE 3: ONLINE WORKSHOP AND EXPERT SESSIONS
College Idea Hunt 2021 top 10 ideas receive online workshop where they work on their ideas and develop skills on:  
Innovation/Creativity

Critical Thinking

Self-knowledge/Self-Awareness

Communication

Collaboration/Teamwork

Presentation
Ideators will be informed of the schedule through email prior to the event. The workshop will be fully online. The workshop will be an essential part to guide you for your business idea pitching. 
The top 10 ideas will also get an opportunity to participate in Expert Sessions facilitated by leaders from various industries where they will be able to learn essential skills to expedite their entrepreneurial journey.
PHASE 4: I HAVE AN IDEA, Grand Finale 
After the workshop the top 10 ideas will pitch in the grand finale event I have an Idea* in the mass of around 1,500 participants and amongst them, the top 3 ideas will be awarded a cash prize of Rs. 1,00,000 each.

*The event depends on the COVID-19 situation of Nepal. If a physical pitching event is not possible at the time the program will choose alternative options to fulfill the pitching.
PHASE 5: IDEA STUDIO SEASON 6
The top 3 winners get a direct entry to the incubation phase and the TV show of Idea Studio सोचदेखि उध्योगसम्म where they get knowledge, mentorship and networking to transform their idea into a business with further seed investment opportunities. 
Evaluation Criteria
Numerous ideas submitted and the best of the best ideas are evaluated based on the following: 
Innovativeness: Innovative ideas will always be emphasized. It can be any ideas – ideas bringing innovation from kitchen work to the big corporate industries.
Ideas utilizing local resources: Those ideas which utilize the local resources, local manpower, and lead to the investment are encouraged.
Sustainable and scalable ideas: The ideas which have a long-lasting impact following the principle of sustainable development without affecting the environment and promote social as well as economic growth.
Social impact: The ideas that address and solve social problems and have a positive social impact that leads to social justice
Best presentation: Public speaking is an essence a good ideator needs to have. Someone might have a great idea, but unless he expresses it out loud and can convince other investors, the idea will not be impactful. The ideas should be presented to the panel of judges after the selection round.
OBJECTIVES
Entrepreneurship Orientation: The main objective of the College Idea Hunt is to open the world of business and opportunities to the students so they can set up their ventures and establish the markets.
Quality Education: Theory is essential but the knowledge to implement the theory is more important. Thus, the idea pitching event is of  great opportunity to  the students to implement theory in real life. It will eventually improve the education quality. It will be a platform to showcase talents that tomorrow's ideators possess.
Youth Empowerment: Today youths in Nepal are getting opportunities but it is lesser than  the global scenario. If we are to produce human resources  that  can compete in  the world, we need to give them opportunities in accordance with the global market. The College Idea Hunt is one of such few opportunities that  can help students grow.
TURN YOUR IDEAS INTO A BUSINESS!
Almost everyone comes up with an idea and the ticket to success only after it's put into action. To convert ideas into a successful business one needs to overcome numerous challenges. Some common challenges are:
I am just a student. I am good at what I do but I am not an expert on anything.I want to work on my idea but there is no incubator I know of in Nepal. .
My idea is not clear. I don't have a great idea. I am not sure if I can start a business based on my idea.

I rely on my parents' income and leaving my college to work on an idea is not a risk that I can afford.

I don't have enough money to start a business.

I have ideas but could not  act on them.

I have a great idea and all I need is —an investor, a programmer, a developer,an app developer, a marketing person, a business partner etc.
PROGRAMME RULES, TERMS AND CONDITIONS
The programme is offered free of cost. College Idea Hunt won't take any equity in your startup oro idea.

All the participants must submit ideas strictly by the deadline. Failure to submit on time will result in disqualification.

Participants must submit their own innovative ideas. Plagiarism will result in disqualification.

Profanity, swearing or any offensive gesture and harassment of any kind are not  allowed during the course of the event.

The results of the winners published will be final and unquestionable.

The organizing committee reserves the right to take necessary actions in case of breach of any of the explicitly mentioned rules or any other conduct that it deems as gross misconduct.

Organizers have the right to share information acquired from this form to the press, partners, and sponsors.

College Idea Hunt is not an investment company and doesn't promise investment in your idea.

College Idea Hunt is not a business plan generator, instead it is your practical guide to develop your ideas.

College Idea Hunt management team can expel any participant with or without a case during the course of the event.
COLLEGE IDEA HUNT 2018
Top 3 Ideators of College Idea Hunt 2018
Aabhas Karmacharya for Blood Donate App
Sanjay Gurung for Film Studio
Abin Neupane and Nitesh Pandey for Portable Toilet
COLLEGE IDEA HUNT 2019
Top 3 Ideators of College Idea Hunt 2019
Joseph Shrestha for Reverse Vending Machine Nepal
Anshu Pradhan for Sister's Enterprise
Rupesh Duwal for Tetra Pak Recycling
COLLEGE IDEA HUNT 2020
Top 3 Ideators of College Idea Hunt 2020
Hirendra Joshi, Bibita Raut, and Sushma Thapa for Team Vermi
Hemant Raj Awasthi, Gayatri Bhandari, Priya Shahi, Gopi Chataut, Rekha Badu, and Archana Chand for Team Black Soldier Fly
Reshma Kansakar for Team Body Love
COLLEGE IDEA HUNT 2021
Top 3 Ideators of College Idea Hunt 2021
Sovit Kumar Karn, Nirajan Shrestha, Alisha Budha and Kanchan Kumar Mandal for MahaSansaar
Saurav Singha Chaudhari for  Rice Transplanter
Roshan Ojha, Ashish Thapa, Prashant Kandel, and Anubhav Ghimire for Multi-Grain Electric Drying Silo
COLLEGE IDEA HUNT 2022
Top 4 Ideators of College Idea Hunt 2022
Shardul Phuyal and Roshan Bhandari for Mehanati.com
Sadikshya Maharjan for Aaha Bangles
Anis Giri, Devi Kumari Giri, Narayan Thapa and Yamnath Giri for Bio-Greens
Prashanna Shyaula and Prajwol Joshi for We for Nature