Idea Studio Nepal conducted College Idea Hunt 2020 as part of its annual programme. With the objective of encouraging young minds to come up with innovative solutions to existing problems, College Hunt 2020 was hosted online due to the COVID-19 outbreak. Application for College Idea Hunt 2020 was opened on June 22 to July 25, 2020 and the programme was promoted through different platforms for maximum reach. Shristi KC from WWF Nepal, Idea Studio's Eco Impact partner also gave a webinar on Greenovation via Zoom as a part of the promotional campaign on July 2, 2020.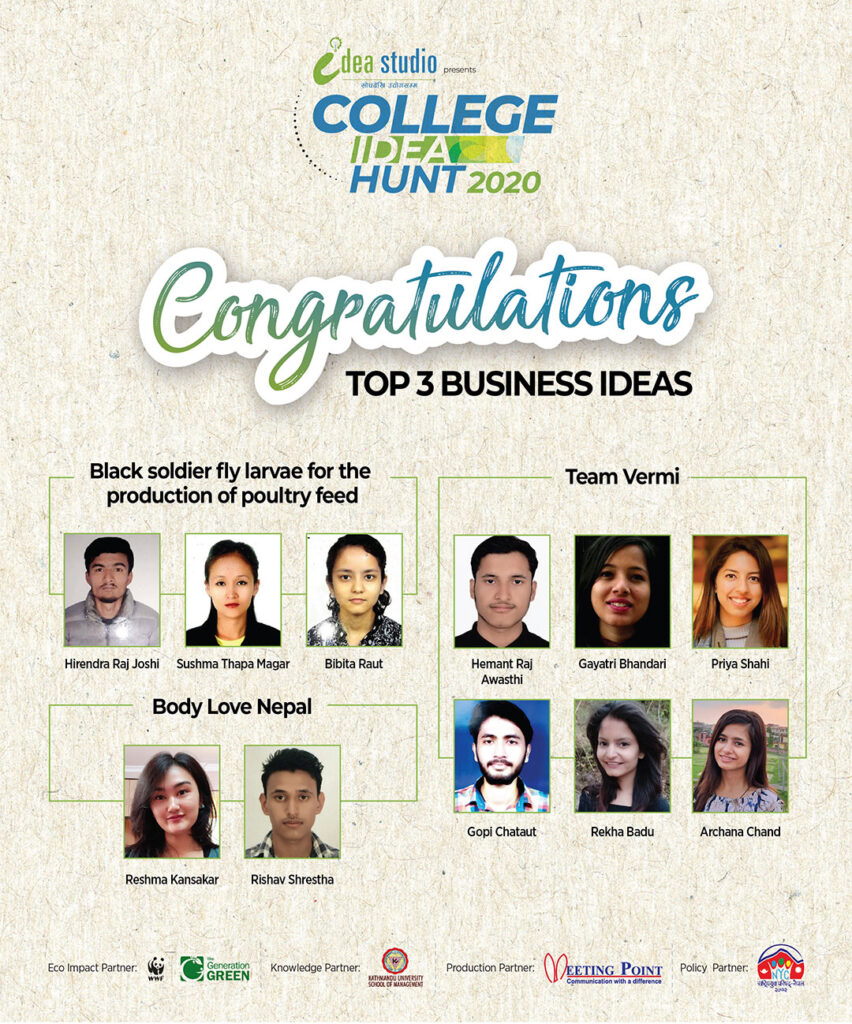 College Idea Hunt 2020 received 200 applications from 114 colleges across Nepal. Fifteen ideators were shortlisted for the next round. Following the shortlisting, 3-day online workshop on Business Concept Development for Impact was held on ZOOM from August 5 to 7, 2020. It was conducted by seven lab masters from Building University Capacity to Support Business Incubation in Nepal (BUCSBIN) and Kathmandu School of Management (KUSoM) team led by Assistant Professor. Sunanda Sharma. On the final day of the workshop, ideators presented their refined business and the final Top 10 was selected ideas for the grand finale.
The top 10 shortlisted ideators presented their final idea pitch during the grand finale 'I Have An Idea' event. The grand finale was held online on ZOOM and live-streamed on Facebook on August 15, 2020 and hosted by Malvika Subba, Media Personality and Board of Idea Studio Nepal. The final pitch determined the final Top 3 ideas for the year. The chief guest at the event was Mr. Vikas Pota, Global leader contributing to the importance of education and keynote speaker was Dr. Ghana Shyam Gurung, Country Representative, WWF Nepal. The judges for the final evaluation were Sanjib Subba, CEO Nepal Electronic Payment System (NEPS), Shrinkhala Khatiwada, Miss Nepal World 2018, and Ravi Pratap Singh, Senior Director Operations, WWF Nepal. The top 3 business ideas of College Idea Hunt 2020 were selected after the final pitch. Hridendra Raj Joshi, Bibita Raut and Sushma Thapa Magar (Black soldier fly larvae for the production of poultry feed), Reshma Kansakar, Rishav Shrestha, Anjeela Tuladhar (Body Love Nepal) and Hemant Raj Awasthi, Gayatri Bhandari, Priya Shahi, Gopi Chataut, Rekha Badu and Archana Chand (Team Vermi) were announced the Top 3 business ideas and won Rs. 100,000 cash prize each and direct entry to Idea Studio Season 5 incubation programme and television show.