IDEA STUDIO
Idea Studio is a platform to turn promising ideas into solutions and ultimately ignite social change and unlock potentials in favor of entrepreneurship through innovation. The process starts with calling for innovation ideas across Nepal, which is shortlisted and mentored by renowned business leaders at Idea Studio Nepal. The best ideas nurtured at the Business Incubator is showcased on primetime National Television in the form of reality show, where business leaders and investors interested in the ideas, partner and invest with innovators to put sustainable solution in place.
News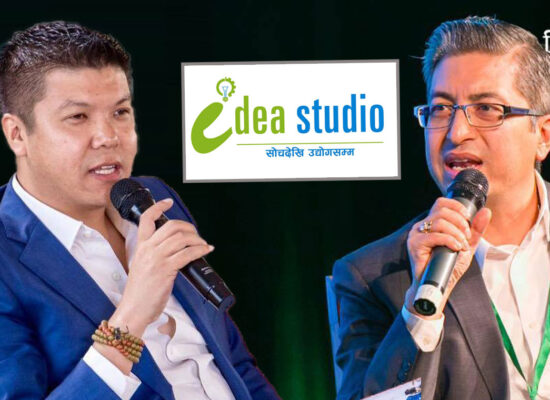 – शिलापत्र संवाददाता | मंगलबार, फागुन ३, २०७८ तपाईंलाई कुनै आइडिया आएको छ ? त्यसलाई व्यवसायमा बदल्न झन्झट भइरहेको छ ? लगानी पर्याप्त छैन ? प्रशासनिकलगायतका विभिन्न समस्याहरू झेल्दै हुनुुहुन्छ ? यदि यसो हो भने आइडिया स्टुुडियो सारथि बन्न सक्छ । कसरी […]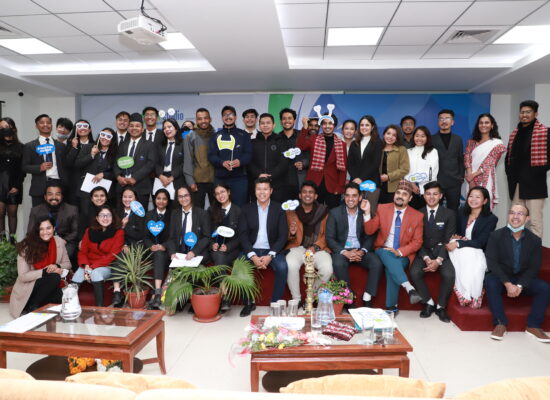 क्यापिटल नेपाल काठमाडौं । प्रगतिशील रुपान्तरण तथा व्यावसायिकता प्रवर्द्धनको क्षेत्रमा क्रियाशील आइडिया स्टुडियोले 'कलेज आइडिया हन्ट २०२१' मंसिर ४ गते सम्पन्न गरेको छ । पाठलाई प्रसंगमा बदल्ने उद्देश्यसहित आइडिया स्टुडियाले २०१४ देखि कलेज आइडिया हन्ट सुरु गरेको हो । […]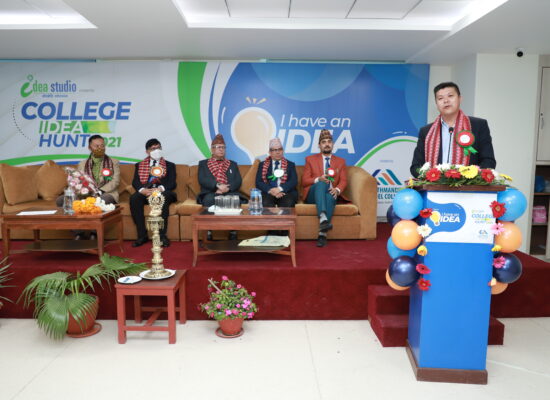 – शिलापत्र संवाददाता | मंगलबार, मंसिर ७, २०७८ क्याम्पसमा अध्ययनरत युवाहरूलाई लक्षित गर्दै आइडिया स्टुडियोले आयोजना गरेको कलेज आइडिया हन्ट कार्यक्रमअन्तर्गत 'आई ह्याभ एन आइडिया– २०२१' नामक कार्यक्रम सम्पन्न भएको छ । ४ मंसिरमा सम्पन कार्यक्रममा २ सय आवेदकमध्ये तीन जना विजेता बन्न […]
See More
Eco-Impact Partner
WWF (World Wide Fund for Nature) is the world's leading independent conservation organization that originated in Switzerland in 1961 and is currently operational in more than 100 countries across six continents. WWF Nepal was first initiated in 1961, with a Rhino Conservation program. To keep up with the evolving face of conservation and environmental movement, WWF Nepal's focus progressed from its localized efforts in conservation of single species in the 1960s, integrated conservation and development approach in the 1990s, to a new horizon of landscape-level conservation encompassing national, regional and global scales of complexity in early 2000s.
As Eco Impact partner in Idea Studio, WWF Nepal's role is to encourage the next generation to opt for green economies and pathways. Our dependency on non-renewable sources of energy, an inefficient food, and waste management system, and over-exploitation of natural resources are causing permanent damage to our planet as we know it. Through Idea Studio, we hope to bring continuity to our 'Greenovation' program and support green entrepreneurs to take their ideas into action. If you want to be more involved in conservation, visit www.wwfnepal.org/tgg to 'Sign Up' for the youth program.
Banking Partner
Prabhu Bank is one of the leading banking and financial services group in Nepal, the Bank will be there where growth is, connecting customers to the opportunities, enabling the business to thrive and economies to prosper and ultimately helping people to fulfill their hopes and realize their ambitions. The Bank offers the full range of banking and investment services for personal and corporate customers, backed by the team of highly motivated, young and dynamic professionals.
Broadcasting And Production partner
AP1 Television operated by Annapurna Broadcast Media P. Ltd and AP One Media P. Ltd. is sister organizations of Annapurna Media Network – Nepal's leading private media house, the publisher of Annapurna Post (Nepali National daily) and the broadcaster of Annapurna FM.
Academic Incubator Champions
Kathmandu Model College (KMC) established in 2000 right in the heart of the capital city. Bagbazar has carved out for itself an enviable niche at the summit of the best colleges in the country. KMC has earned its place of the price through the vision and dedication of a team of academics and professionals who have promoted it, the skill of its panel of professors who possess cutting edge knowledge in their fields, and, above all, the brilliance of its students who have been consistently turning in sterling performance every year. 
Global Academy of Tourism and Hospitality Education (GATE) is one of Nepal's leading hospitality colleges. Located in Mandikhatar, Kathmandu, it is the first college in Asia to provide a Swiss degree. GATE is also the first academy in Nepal to win an international award at the World Hospitality Award, Most innovative training program in 2011.
Idea Studio Nepal Enabled Business